About Us
Barnsley House Chinese Takeaway is a Chinese takeaway in Barnsley. Why don't you try our Sweet & Sour Chicken (Cantonese Style) or Roast Duck with Ginger & Spring Onions?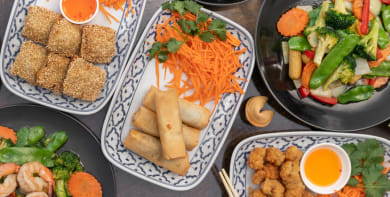 Reviews
51 reviews
Courtney
"Gorgeous food beef chow mein is always full of big chunks of meat and their salt and pepper chips are to die for. Love it 10/10"
10/09/2020
m
"Always great food."
10/09/2020
Menu
King Prawn Omelette with Chips
£5.60
Mushroom Omelette with Chips
Suitable for vegetarian
£4.90
Plain Omelette with Chips
Suitable for vegetarian
£4.70
Roast Pork Omelette & Chips
£5.10
Special Omelette with Chips
Prawn, chicken, roast pork & mushroom
£5.80
Chicken Omelette with Chips
£5.30
Crispy Shredded Pork in Five Spice
£4.80
Roast Pork in Black Bean Sauce with Green Pepper
£4.80
Roast Pork in Cantonese Style
£4.80
Roast Pork in Hot & Spicy Sauce
Hot
£4.80
Roast Pork in Malaysian Sauce
£4.80
Roast Pork in Oyster Sauce
£4.80
Roast Pork in Satay Sauce
Hot
Contain peanuts or cashew nuts
£4.80
Roast Pork with Bamboo Shoots & Water Chestnuts
£4.80
Roast Pork with Cashew Nuts
£4.80
Roast Pork with Ginger & Spring Onion
£4.80
Roast Pork with Mushrooms
£4.80
Roast Pork with Onions in Gravy Sauce
£4.80
Roast Pork with Szechuan Sauce
Hot
£4.80
Roast Duck with Bamboo Shoots & Water Chestnuts
£5.70
Roast Duck with Ginger & Spring Onions
£5.70
Roast Duck with Mushrooms
£5.70
Roast Duck with Pineapple
£5.70
Roast Duck in Black Bean Sauce with Green Pepper
£5.70
Roast Duck in Cantonese Sauce
£5.70
Roast Duck in Hot & Spicy Sauce
Hot
£5.70
Roast Duck in Malaysian Sauce
£5.70
Roast Duck in Orange Sauce
£5.70
Roast Duck in Satay Sauce
Hot
Contain peanuts or cashew nuts
£5.70
Roast Duck in Szechuan Sauce
Hot
£5.70
Crispy Shredded Duck with Salt, Chilli & Garlic
Hot
£5.90
Crispy Shredded Duck with Seaweed
£5.90
Crispy Duck in Five Spice
£5.90
House Special Udon Noodles
Dry fried with king prawn, chicken, beef, roast pork, bean sprout, chilli & onion
Hot
£6.00
Roast Pork & Roast Duck Udon Noodles
£5.70
Thai Beef Curry Green
Hot
£6.50
Thai Chicken & Beef Curry Green
Hot
£6.50
Thai Chicken & Beef Curry Red
Hot
£6.50
Thai Chicken & Prawn Curry Green
Hot
£6.50
Thai Chicken & Prawn Curry Red
Hot
£6.50
Thai Chicken Curry Green
Hot
£6.50
Thai Chicken Curry Red
Hot
£6.50
Thai House Special Curry Green
Contains king prawn
Hot
£6.80
Thai House Special Curry Red
Contains king prawn
Hot
£6.80
Thai King Prawn Curry Green
Hot
£6.50
Thai King Prawn Curry Red
Hot
£6.50
Thai Mixed Vegetable Curry Green
Hot
Suitable for vegetarian
£5.70
Thai Mixed Vegetable Curry Red
Hot
Suitable for vegetarian
£5.70
Mushroom Foo Yung
Suitable for vegetarian
£4.60
Mixed Vegetable Foo Yung
Suitable for vegetarian
£4.60
House Special Foo Yung
Contain prawn
£5.70
House Special with Broccoli
£5.80
House Special with Cashew Nuts
£5.80
House Special with Ginger & Spring Onions
£5.80
House Special with Mushroom in Black Bean Sauce
£5.80
House Special with Mushrooms
£5.80
House Special with OK Sauce
£5.80
House Special with Pineapple
£5.80
House Special with Salt, Chilli & Garlic
Hot
£5.80
House Special with Tomato
£5.80
House Special in Hot & Spicy Sauce
Hot
£5.80
House Special in Kung Po Sauce
Hot
Contain peanuts or cashew nuts
£5.80
House Special in Malaysian Sauce
£5.80
House Special in Oyster Sauce
£5.80
House Special in Satay Sauce
Hot
Contain peanuts or cashew nuts
£5.80
House Special in Szechuan Sauce
Hot
£5.80
Pineapple Fritters in Syrup
£2.50
Mixed Vegetable Soup
Suitable for vegetarian
£2.30
Chicken & Sweetcorn Soup
Contain egg
£2.80
Hot & Sour Soup
Contain shrimp & egg
Hot
£3.20
Crab Meat & Sweetcorn Soup
Contain egg
£2.60
Egg Fried Rice, Noodle & Curry
Large container
Hot
£4.50
4 Sausages & Chips
With onion, mushroom & gravy
£5.30
Chips & Curry
Large container
Hot
£3.50
Chips, Egg Fried Rice & Curry
Large container
Hot
£4.20
Salt & Pepper Chips
Large container
£3.50
Sirloin Steak
Large container
With chips, onion, mushroom, peas & gravy
£8.80
Slices of Beef with Chips, Egg Fried Rice & Curry
Large container
With onion, mushroom & peas
Hot
£5.20
Slices of Chicken with Chips, Egg Fried Rice
With curry
Large container
With onion, mushroom & peas
Hot
£5.20
Slices of Roast Pork with Chips, Egg Fried Rice
With curry
Large container
With onion, mushroom & peas
Hot
£5.20
Special with Chips, Egg Fried Rice & Curry
Large container
With onion, mushroom & peas
Hot
£6.30
Mushrooms with Chips, Egg Fried Rice & Curry
Large container
With onions & peas
Hot
£4.60
Noodle & Curry
Large container
Hot
£4.20
Mixed Grill with Chips
Lamb chop x 1, sausages x 2 & sirloin steak with chips
£9.30
Roast Chicken with Chips
With onion, mushroom, peas & gravy
£6.30
Chicken in Cantonese Sauce
£4.80
Chicken in Hot & Spicy Sauce
Hot
£4.80
Chicken in Malaysian Sauce
£4.80
Chicken in Satay Sauce
Hot
Contain peanuts or cashew nuts
£4.80
Chicken in Szechuan Sauce
Hot
£4.80
Chicken with Bamboo Shoots & Water Chestnuts
£4.80
Chicken with Ginger & Spring Onions
£4.80
Chicken with Green Pepper & Black Bean Sauce
£4.80
Chicken with Onion in Gravy Sauce
£4.80
Chicken with Oyster Sauce
£4.80
Crispy Chicken in Lemon Sauce
£5.20
Crispy Chicken in Orange Sauce
£5.20
Crispy Chicken with Seaweed
£5.20
Crispy Shredded Chicken in Five Spice
£5.20
Crispy Shredded Chicken in Hot Spicy Sauce
Hot
£5.20
Crispy Shredded Chicken in Kung Po Sauce
Hot
Contain peanuts or cashew nuts
£5.20
Crispy Shredded Chicken in OK Sauce
£5.20
Crispy Shredded Chicken in Peking Sauce
Contains celery
£5.20
Crispy Shredded Chicken in Sweet & Sour Sauce
Contains celery
£5.20
Crispy Shredded Chicken with Salt, Chilli & Garlic
Hot
£5.20
Deep Fried Chicken with Salt, Chilli & Garlic
Hot
£5.20
Crispy Shredded Beef in Five Spice
£5.20
Crispy Shredded Beef in Hot & Spicy Sauce
Hot
£5.20
Crispy Shredded Beef in Kung Po Sauce
Hot
Contain peanuts or cashew nuts
£5.20
Crispy Shredded Beef in OK Sauce
£5.20
Crispy Shredded Beef in Peking Sauce
Contains celery
£5.20
Crispy Shredded Beef in Sweet & Sour Sauce
Contains celery
£5.20
Crispy Shredded Beef with Salt, Chilli & Garlic
Hot
£5.20
Crispy Shredded Beef with Seaweed
£5.20
Beef in Hot & Spicy Sauce
Hot
£5.00
Beef in Satay Sauce
Hot
Contain peanuts or cashew nuts
£5.00
Beef in Szechuan Sauce
Hot
£5.00
Beef with Bamboo Shoots & Water Chestnuts
£5.00
Beef with Ginger & Spring Onions
£5.00
Beef with Green Pepper & Black Bean Sauce
£5.00
Beef with Onion in Gravy Sauce
£5.00
Special Chop Suey
Contain king prawn
£5.80
Singapore Chow Mein
Contain king prawn & egg
Hot
£5.40
Yeung Chow Chow Mein
Prawn, chicken & roast pork
£5.30
Singapore Vermicelli
Contain king prawn & egg
Hot
£5.40
King Prawn Chow Mein With Sauce
£5.70
Mixed Vegetable Chow Mein Dry
Suitable for vegetarian
£5.10
Mixed Vegetable Chow Mein With Sauce
Suitable for vegetarian
£5.10
Mushroom Chow Mein Dry
Suitable for vegetarian
£5.10
Mushroom Chow Mein With Sauce
Suitable for vegetarian
£5.10
Roast Pork Chow Mein With Sauce
£5.30
Chicken Chow Mein With Sauce
£5.30
Beef Chow Mein With Sauce
£5.40
House Special Chow Mein
Chow mein topped with king prawn, mixed meat & vegetables
£6.60
House Special Chow Mein
Dry
King prawn & mixed meat with chow mein, topped with BBQ sauce
£6.60
Deep Fried King Prawns with Salt, Chilli & Garlic
Hot
£5.80
Deep Fried King Prawns with Seaweed
£5.80
Crispy King Prawn in Five Spice
£5.80
King Prawn in Cantonese Sauce
£5.60
King Prawn in Malaysian Sauce
£5.60
King Prawn with Onion in Gravy Sauce
£5.60
King Prawns in Black Bean Sauce with Green Pepper
£5.60
King Prawns in Hot & Spicy Sauce
Hot
£5.60
King Prawns in Oyster Sauce
£5.60
King Prawns in Satay Sauce
Hot
Contain peanuts or cashew nuts
£5.60
King Prawns in Szechuan Sauce
Hot
£5.60
King Prawns with Bamboo Shoots & Water Chestnuts
£5.60
King Prawns with Cashew Nuts
£5.60
King Prawns with Ginger & Spring Onions
£5.60
King Prawns with Mushrooms
£5.60
Sweet & Sour Sauce
Contain celery
£1.80
Stir Fried Bamboo Shoots & Water Chestnuts
Large
£3.10
Stir Fried Bean Sprouts
Large
£3.10
Stir Fried Mushrooms
Large
£3.80
Curry Sauce
Contain celery
Hot
£1.80
Chow Mein
With carrot, bean sprouts & onion
Large
£3.50
Happy Meal
BBQ spare ribs in BBQ sauce
Sweet & sour chicken balls (5)
Beef with green pepper in black bean sauce
Chicken curry (hot)
Egg fried rice & chips
Prawn crackers
£15.00
Spicy Box A Small
Egg noodles with chicken, beef, pork & vegetables in chilli sauce
Hot
£4.70
Spicy Box A Regular
Egg noodles with chicken, beef, pork & vegetables in chilli sauce
Hot
£5.50
Spicy Box A Large
Egg noodles with chicken, beef, pork & vegetables in chilli sauce
Hot
£6.30
Sweet Chilli Box B Small
Egg noodles with chicken, king prawn, beef, pork & vegetables in oyster sauce
Contain peanuts or cashew nuts
£4.70
Sweet Chilli Box B Regular
Egg noodles with chicken, king prawn, beef, pork & vegetables in oyster sauce
Contain peanuts or cashew nuts
£5.50
Sweet Chilli Box B Large
Egg noodles with chicken, king prawn, beef, pork & vegetables in oyster sauce
Contain peanuts or cashew nuts
£6.30
House Special Box C Small
Egg noodles with chicken, king prawn, beef, pork & vegetables in oyster sauce
£4.70
House Special Box C Regular
Egg noodles with chicken, king prawn, beef, pork & vegetables in oyster sauce
£5.50
House Special Box C Large
Egg noodles with chicken, king prawn, beef, pork & vegetables in oyster sauce
£6.30
Seafood Box D Small
Egg noodles with king prawns, crab sticks, tofu, fish cakes, egg & vegetables in rich Malaysian sauce
£4.70
Seafood Box D Regular
Egg noodles with king prawns, crab sticks, tofu, fish cakes, egg & vegetables in rich Malaysian sauce
£5.50
Seafood Box D Large
Egg noodles with king prawns, crab sticks, tofu, fish cakes, egg & vegetables in rich Malaysian sauce
£6.30
Satay Box E Small
Egg noodles with chicken, beef, pork, king prawn, vegetables, pineapple & peanuts in satay sauce
Contain peanuts or cashew nuts
£4.70
Satay Box E Regular
Egg noodles with chicken, beef, pork, king prawn, vegetables, pineapple & peanuts in satay sauce
Contain peanuts or cashew nuts
£5.50
Satay Box E Large
Egg noodles with chicken, beef, pork, king prawn, vegetables, pineapple & peanuts in satay sauce
Contain peanuts or cashew nuts
£6.30
Chilli Box F Small
Egg noodles with king prawn, pork & vegetables in chilli soy sauce
Hot
£4.70
Chilli Box F Regular
Egg noodles with king prawn, pork & vegetables in chilli soy sauce
Hot
£5.50
Chilli Box F Large
Egg noodles with king prawn, pork & vegetables in chilli soy sauce
Hot
£6.30
Chinese Fried Rice
Yeung chow fried rice topped with special omelette & BBQ sauce
£6.20
Cantonese Special Fried Rice
Egg fried rice topped with roast duck & BBQ sauce
£6.60
House Special Fried Rice
Dry
King prawn, mixed meat & peas cooked with egg fried rice, topped with BBQ sauce
£6.40
House Special Fried Rice
Egg fried rice topped with king prawn, mixed meat & vegetable
£6.40
Singapore Fried Rice
Contain king prawn
Hot
£5.10
Yeung Chow Fried Rice
Prawn, chicken, roast pork & peas
£5.10
Mushroom Fried Rice
Suitable for vegetarian
£4.90
Mixed Vegetable Fried Rice
Suitable for vegetarian
£4.90
King Prawn Balls in Salt, Chilli & Garlic
Hot
£5.70
Pork Balls in Salt, Chilli & Garlic
Hot
£4.90
Sweet & Sour Chicken (Cantonese Style)
Large container
£4.90
Sweet & Sour House Special
Large container
£5.80
Sweet & Sour King Prawn (Cantonese Style)
Large container
£5.70
Sweet & Sour Pork (Cantonese Style)
Large container
£4.70
Deep Fried King Prawn Balls (10)
Sauce separate
£5.70
Deep Fried Pork Balls (10)
Sauce separate
£4.90
Deep Fried Mixed Balls (10)
Sauce separate
£5.80
Deep Fried Chicken Balls (10)
Sauce separate
£5.20
Chicken Balls in Salt, Chilli & Garlic
Hot
£5.20
Set Dinner A for One Person
Sesame prawn on toast (4)
Deep fried chicken balls (5)
Chicken with mushroom
Yeung chow fried rice (contain prawn & egg)
£8.50
Set Dinner B for Two Persons
Mini vegetable spring rolls (4)
BBQ spare ribs (4)
Chicken with cashew nuts
Beef in satay sauce (hot) (contain peanuts or cashew nuts)
Yeung chow fried rice (large) (contain prawn & egg)
Prawn crackers
£17.00
Set Dinner C for Three People
Deep fried chicken balls (9)
BBQ spare ribs
King prawn with hot & spicy sauce (hot)
Beef with green peppers in black bean sauce
Chicken in Szechuan sauce (hot)
Yeung chow fried rice (3 small) (contain prawn & egg)
£27.00
Set Dinner D for Four People
Aromatic crispy duck (half)
Sesame prawn on toast (8)
Crispy shredded beef in sweet & sour sauce
King prawn with ginger & spring onions
Beef with green pepper in black bean sauce
Chicken in oyster sauce
Chicken chow mein
Yeung chow fried rice (2 large) (contain prawn & egg)
Prawn crackers
£42.00
Chicken Box
Barnsley House
Chicken fried rice, chicken noodles, salt & pepper chips, salt & pepper chicken bites & curry sauce
£16.80
Aromatic Crispy Duck Half
Served with pancakes, spring onion, cucumber & hoisin sauce
£14.70
Aromatic Crispy Duck Quarter
Served with pancakes, spring onion, cucumber & hoisin sauce
£8.70
BBQ Spare Ribs in Barbecue Sauce
£5.90
BBQ Spare Ribs in Hot Spicy Sauce
Hot
£5.90
BBQ Spare Ribs in OK Sauce
£5.90
BBQ Spare Ribs in Peking Sauce
Contain celery
£5.90
BBQ Spare Ribs in Plum Sauce
£5.90
BBQ Spare Ribs in Salt, Chilli & Garlic
Hot
£5.90
BBQ Spare Ribs in Sweet & Sour Sauce
Contain celery
£5.90
BBQ Spare Ribs with Lemon
£5.90
BBQ Spare Ribs with Seaweed
£5.90
Chicken Wings in BBQ Sauce
£4.40
Chicken Wings in Hot Spicy Sauce
Hot
£4.40
Chicken Wings in OK Sauce
£4.40
Chicken Wings in Peking Sauce
Contains celery
£4.40
Chicken Wings in Sweet & Sour Sauce
Contain celery
£4.40
Chicken Wings with Salt & Chilli
Hot
£4.40
Chicken Wings with Seaweed
£4.40
Deep Fried Crab Claws (6)
£4.30
Crispy Wonton (10)
Contain prawn & chicken
£3.90
Crispy Meaty Spring Rolls (5)
£3.80
Crispy Seaweed with Grated Fish
£4.00
Combination Spare Ribs for 2
Honey ribs, BBQ ribs, Peking ribs & OK sauce ribs
£8.70
Deep Fried Onion Rings (12)
With dip
Suitable for vegetarian
£2.70
Smoked Chicken with Seaweed
£5.30
Salt & Pepper Mixed Starter
Crispy chicken, 4 spare ribs, 2 chicken wings, 4 king prawns
£8.00
Salt & Pepper Munchy Box Large
Barnsley House
Chicken balls, spare ribs, chicken wings, mini spring rolls, chicken bites, crispy shredded beef, chips & curry sauce
Hot
£16.00
Salt & Pepper Munchy Box Regular
Barnsley House
Chicken balls, spare ribs, chicken wings, mini spring rolls, chicken bites, crispy shredded beef, chips & curry sauce
Hot
£10.00
Satay Chicken on Skewers (5)
Contain peanuts or cashew nuts
£5.10
Sesame Prawn on Toast (8)
£4.50
Special Platter
2 Spare ribs, 2 spring rolls, 4 sesame prawn toast, seaweed, 2 crispy wonton, 1 satay chicken skewer, chips & sweet & sour dip
£7.50
Special Platter for 2
4 Spare ribs, 4 spring rolls, 8 sesame prawn toast, seaweed, 4 crispy wonton, 2 satay chicken skewers, chips & sweet & sour dip
£14.00
Kung Po Chicken Wings
Hot
Contain peanuts or cashew nuts
£4.40
Kung Po Spare Ribs
Hot
Contain peanuts or cashew nuts
£5.90
Mini Vegetable Spring Rolls (12)
Suitable for vegetarian
£2.90
House Special Curry
Contain king prawn
Hot
£6.30
Beef & Mushroom Curry
Hot
£6.10
Chicken & King Prawns Curry
Hot
£6.30
Chicken & Mushroom Curry
Hot
£6.00
Roast Duck & Mushroom Curry
Hot
£6.30
Roast Pork & Mushroom Curry
Hot
£6.00
King Prawn & Mushroom Curry
Hot
£6.30
Mixed Vegetable Curry
Hot
Suitable for vegetarian
£5.60
Mushroom Curry
Hot
Suitable for vegetarian
£5.60
Contact Us
Find Us
347-349 Pontefract Road, Barnsley, S715HS
We deliver to
S70, S71, S72, S73, S74, S75, WF9